5 Key Trends From KPMG's Banking Outlook Survey
Banks are starting to reap benefits from past investments in regulatory compliance and are looking ahead to business growth.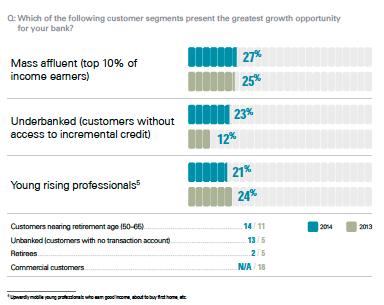 On the retail consumer side, there is increasing interest among banks in attracting and deepening relationships with underbanked customers; 23% of the survey respondents chose them as the customer segment with the highest-growth potential, versus 11% in last year's survey.
The industry's interest in the underbanked is being driven partly by nontraditional financial services providers, like Bluebird, that have made inroads with this segment, Stephens said. Banks can look to attract underbanked customers by delivering faster transactions in areas like bill payment and wire transfers, along with services like debit card management. Many of these customers are students and recent graduates, he said, so banks will have to focus on fee-based services to make them profitable, since they aren't looking for complex loan products yet.
Jonathan Camhi has been an associate editor with Bank Systems & Technology since 2012. He previously worked as a freelance journalist in New York City covering politics, health and immigration, and has a master's degree from the City University of New York's Graduate School ... View Full Bio