4 Trends in Banking IT Employment
Things are looking up for banking IT professionals -- with a few qualifications -- according to the results of the 2014 InformationWeek Analytics Salary Survey.
2. Gender Gap Persists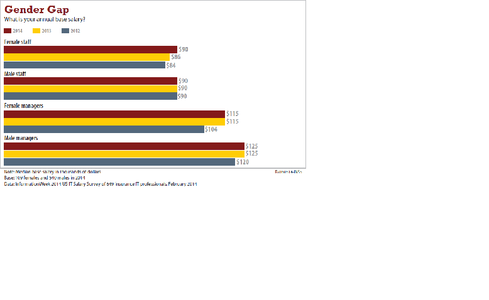 A gender gap still exists in the banking industry, when it comes to IT management and staff compensation. Median annual base salaries continue to be more than 10% less for women on both levels than they are for men. In fact, median base salaries for female staff in 2014 were 13% lower than their male counterparts. Similarly, male managers reported their base salaries as substantially higher than their female peers, a median of 12.5% difference.
There's good news and bad news for female banking IT employees. The bad news is that the base salary differential increased this year over 2013, when the median base salary for male staff members was 10.6% higher than for female staffers. But the good news is that the difference in median base salary for male IT managers and their female counterparts diminished since 2013, when male managers made 17.1% more in median base salary than managers who were women.
Peggy Bresnick Kendler has been a writer for 30 years. She has worked as an editor, publicist and school district technology coordinator. During the past decade, Bresnick Kendler has worked for UBM TechWeb on special financialservices technology-centered ... View Full Bio