3 Key Upgrades to Bank of America's New Mobile App
Bank of America's new mobile app delivers improved navigation and multichannel integration for a better experience for its 15 million mobile customers.
Simple navigation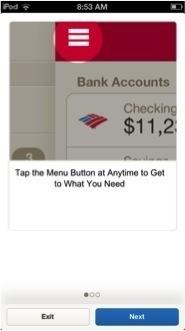 A new sandwich navigation menu in the top left corner of the screen gives customers easy access to all of the app's capabilities. Navigating within the app and finding the right information or services can be a challenge for customers as more capabilities are added to the mobile app, Gopalkrishnan says.
"We're trying to cram a whole bank into the mobile device. This structure with the sandwich menu helps the customer access capabilities more quickly. Everything in the app is available through that menu."
Jonathan Camhi has been an associate editor with Bank Systems & Technology since 2012. He previously worked as a freelance journalist in New York City covering politics, health and immigration, and has a master's degree from the City University of New York's Graduate School ... View Full Bio